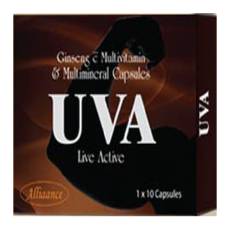 UVA Capsules- Boosts the vitality and strengthens the body power
Recovering from daily stress and physical fatigue simplifies with UVA Capsules. It helps in improving the physical endurance and stamina. Alliaance Biotech brings forth a key solution to boost learning and memory power at the minimum prices.
Yes, it is all yours for just Rs.300. Don't delay and buy it now!
What make UVA Capsules different?
Nowadays everyone yearns for a content and successful life. But, the fact is that it is not that simple to lead a happy and stress free life.
Do you know that under high stress you become 30 times older than your real age? You surely don't want to look overage, isn't it? Don't worry order UVA Capsules today.
Alliaance Biotech merges the efficacious Ayurvedic solutions with modern production technology to provide you extraordinary herbal health care remedy like UVA Capsules. It comprises of the natural herb Ginseng and an appropriate amount of various multi-vitamin and multi-minerals.
While Ginseng motivates the physical and mental activity, on the other hand anti-inflammatory properties prevent fatigue.
Boosting the energy level of your body, the necessary amount of vitamins and minerals in UVA Capsules helps nervous system health, bone health, physiological functions, and hormone metabolism.
What can UVA Capsules do?
Alliaance Biotech offers you this natural antidote to:
Fight back the mental stress and anxiety
Reduce physical fatigue and tension
Enhance the concentration and memory power
Improve physical endurance and stamina
Provide you a peaceful and adequate sleep
The list of benefits is long. Add it to your routine and feel the change yourself!