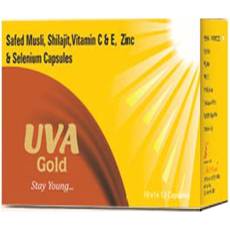 UVA Gold- Ignite the passion & fulfill your desires Â
The use of 'ayurvedic' nutrients and latest processing techniques gets you a pioneering health care solution, UVA Gold. It boosts your body's immune and makes it resistant to several chronic ailments, including stress, anxiety and many more.
Order UVA Gold now and live your life to the fullest. It costs you just Rs.300.

What makes UVA Gold different? Â
Aside from relieving you from severe stressful states of mind, UVA Gold has lot to offer. The constituents of this supercharging product are 100% natural and safe. Have a look:
Safed Musli: It enhances energy and makes you proficient enough to combat enduring diseases.
Shilajit: The anti-aging and anti- disease properties keep you young and active throughout.
Multi-vitamins and minerals: It consists of Vitamin A, E, C, Zinc and Selenium. These are essential elements to revitalize you physically and mentally.
Delivering excellent results, there is no other effective and herbal contender for UVA Gold. What are you waiting for? Grab it now!

What can UVA Gold capsules do? Â
Alliaance Biotech promises you good health and better life with its holistic system of medicines. With UVA Gold, we aim to:
Improve functioning of your heart.
Normalize your immune system and motivate the fat breakdown.
Escalate the tolerance power
Minimize the excessive cortisol levels.
Cater capability to deal with excessive stress.
Boost the function of nervous system.
Enhance overall health and energy.
Augment the mental and physical relaxation.
Place your orders for this comprehensive herbal remedy today and add spark to your life!