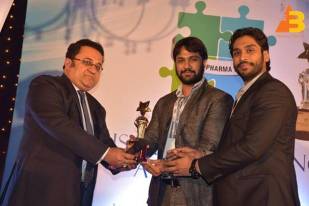 Alliaance Biotech awarded with Business Excellence Award at the Indian Expo Award 2015.
Delhi, 25th October 2015. The 4th edition of the Indian Pharma Expo Award 2015 held on 24th October 2015 brought offerings for Alliaance Biotech this year. The renowned pharmaceutical company in northern India was awarded with the Business Excellence Award 2015 for the efforts and innovations it made in process and formulation.
The two days expo was organized in New Delhi by UBM Medica India Pvt. Ltd. The event provides an opportunity for the contributing pharmaceutical companies to showcase their products & services to the visitors from pharma and healthcare industries globally. The expo aimed at bringing together the eminent personalities from various sectors of pharma, non-pharma and healthcare industries.
Highlights of IPE-2015
The expo showcased the latest trends and technologies in pharmaceuticals, drugs and formulations. In addition, the expo also aimed at honoring the companies for their innovations, achievements and efforts the made in the pharma industry in the past one year.
About Indian Pharma Expo
The Indian Pharma Expo is a pharmaceutical industry event creating enormous space with the presence of pharmaceutical manufacturing services, software companies, pharmaceuticals wholesale and distribution services, pharmaceutical technologies, chemicals and compounds, ayurvedic and herbal products, pharmaceutical franchises and other related services. This event brings together leading drug manufacturers and suppliers at a common stage and allows the exhibitors to enhance their business and networking. The event also presents latest trends of technologies and products of the industry.