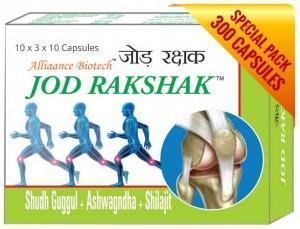 The renowned pharmaceutical company in Northern India- Alliaance Herbal has come up with a new offer to promote strength in the people.
October 2015, Chandigarh, India. Alliaance Herbal, a distinguished company in the herbal medications, is in the headlines because of its 'healthy' offer for all its customers! This time it is because of its ultimate product -"Jod Rakshak."
Jod Rashak is a herbal treatment for treating joints and related ailments. Whether it is arthritis or knee pain, Jod Rakshak is believed to treat it all very effectively. Within a short span of time, the product has earned popularity as an effective joint pain relief in the Northern regions of India.
Jod Rakshak is completely natural and has its constituents as the ancient 'jadi-butis' including Ashwagndha, ShudhhGuggal and Shilajit. These herbs have been used by the ancient sages in India to treat joing and muscle related problems. Being entirely herbal, Jod Rakshak is 100% safe, effective and has no side-effects, unlike other steroid-based medications.
Seeing the ever-increasing popularity and demand of Jod-Rakshak, the manufacturers decided to launch a special pack of 300 Jod Rakshak capsules that are available only on the company website. The manufacturers are solely focused on the health and fitness of the people and hence the offer has been launched. Just two capsules a day and your joint pain will vanish away!
Alliaance Herbal is a prominent pharmaceutical company in India and is a well-known Manufacturer and supplier of standardized Pharmaceutical finished products. The experts at Alliaance Biotech include herb specialists, R&D professionals, formulation experts, and quality controllers. Their efforts and expertise assures safe and effective medication, according to the Schedule-M norms and WHO norms. They strongly believe that the present lifestyle of people, expensive treatments and treacherous medication inspired them to develop the herbal health solutions.
Just like Jod Rakshak, other herbal products by Alliaance Herbal include Sugar Rakshak (for diabetes), UVA Gold and UVA capsules.
It seems to be a great offer for all, especially those who have tried hard to getting treated their joint and body pain and have gained nothing. Hope this offer comes up as a life-changing opportunity for both, the company and the affectants…. Definitely in a positive way!
About Alliaance Herbal
Alliaance Herbal founded by Mr. Shiv Kumar Gupta and Mr.Yashpaul Singla located in Baddi, village Katha, Tehsil Nalagarh, District Solan Himachal Pradesh towards Sai Road Baddi. The firm built the premises to suit the Schedule-M norms and WHO norms attained the manufacturing License in accordance with the aforesaid norms. The firm is licensed to manufacture the Drugs Tablets, Capsules, Liquid, Injections (Dry & liquid), Hormone's Tablets and injections. Alliaance Herbal is ISO 9001:2008, head office located at Chandigarh, with activities mainly in the manufacturing Pharmaceutical finished products.
News Source : http://www.cvbnews.in/new-special-pack-of-300-jod-rakshak-capsules-available-on-alliaance-herbal/